Ashland Sky Knit Sacks
Made in the USA, in beautiful Ashland, Oregon, their sleek, clean, see-through design is very modern, very trendy, and very efficient. They will give you all the order and organization you need to keep your knitting life stress free.

For the knitter who wants an efficient, simple, and convenient way to organize knitting needles, Ashland Sky Knit Stick Sacks are the answer!

Each Knit Stick Sack lies flat for easy storage and packing, and made with sturdy, frosted vinyl, which allows you to see at a glance what you have and what you need.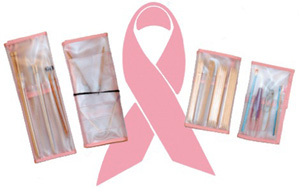 For all products trimmed in pink, Ashland Sky donates a portion of it's profits to breast cancer research and education.
The knit sacks are trimmed in your choice of black, blue, green, purple, red, and pink.
Special Edition Colors