Artful Yarns Marine
Yarn Sold Out - Patterns Available

Fiber: 60% Nylon, 40% Polyamide
Gauge: 5.25sts/inch
Needle Size: US 5
Weight: 50g
Yardage: 96

Price: $8.50, discountable

Marine Patterns

Marine Booklet 92241
Individual Patterns Available
$6.00 each for a PDF download
In Stock

Marine 92241
A. Tunic
33 - 36.5 - 40 - 43.5 - 47"
8-9-11-12-13 balls #1890

$6.00


Marine 92241
B. Tank
34.5 - 37 - 41 - 44 - 47 - 50"
5-5-6-7-7-8 balls #1872

$6.00


Marine 92241
C. Dolman Cardigan
36 - 40 - 44"
9-10-11 balls #1880

$6.00

Yarn Sold Out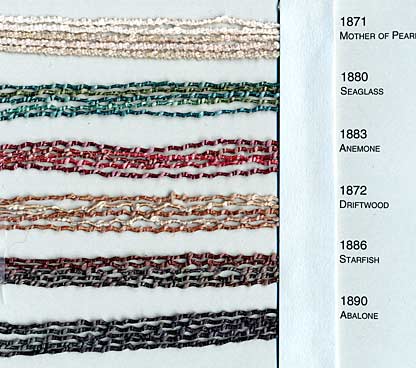 Sold Out

Marine 92251
A Kimono Top
36 - 40 - 44 - 48 - 52 - 56"
7-8-9-10-11-12 balls #1883
Marine 92251
B. Double Breasted Cardigan
32 - 36 - 40 - 44 - 48 - 52
8-9-10-12-13-14 balls #1871
Marine 92251 $5.00
Marine 92224 Booklet
A. Empire Colorblock Top
5(6, 7, 7, 8, 9) ball MC
2 balls CC


Marine 92224 Booklet
B. Cropped Kimono
6(7, 8, 9, 10, 11) balls

Marine 92224 Booklet
C. Bow-tie Tank
5(5, 6, 6, 7, 8) balls

Marine 92224 Booklet
D. Lace Scarf
3 balls
Marine 92224 Booklet -- $8.95
Marine One Skein Choker

Knitting Needles: size 7
Gauge: 19 sts & 28 rows to 4" in Pat st. with size 7 needles

Cast on 12 sts
Row 1: (RS) *Ssk, (yo) twice, k2tog; rep from *
Row 2: (WS) *P1, (p1,k1) in double yo, p1; rep from *

Rep row 1-2 until piece measure aprox 13" or 1/2" less than neck circumference.
Knit every row for 1" more. Bind off.

Using 3 open areas for buttonholes, sew decorative buttons opposite.